Proof of Assignment Submission
It remains your responsibility to keep a record of all your digital submission receipts. Please note every time you submit an assignment in clickUP and Turnitin you should receive a digital receipt/proof of submission.
The digital submission receipts are always sent to your student email address shortly after you submit your assignment. If you do not receive one, please check your Spam folder. If you do not receive a submission receipt, alert your lecturer immediately - do not wait until the last minute!
It is recommended that you keep the receipts safe during the course of the semester as proof that you did submit the assignment.
NB: You need to ensure that you have received a digital receipt of the submission otherwise your assignment submission is incomplete! If you save the assignment as a draft, you will not receive a receipt, and your lecturer will also not be able to mark it.
Example of Turnitin Digital Receipt in email


Example of clickUP Digital Receipt in email
For group assignments, all the members in your group will receive the receipt when one member submits for the group.
NB: You can view your submission receipts on your My Grades page, on the Submitted Tab.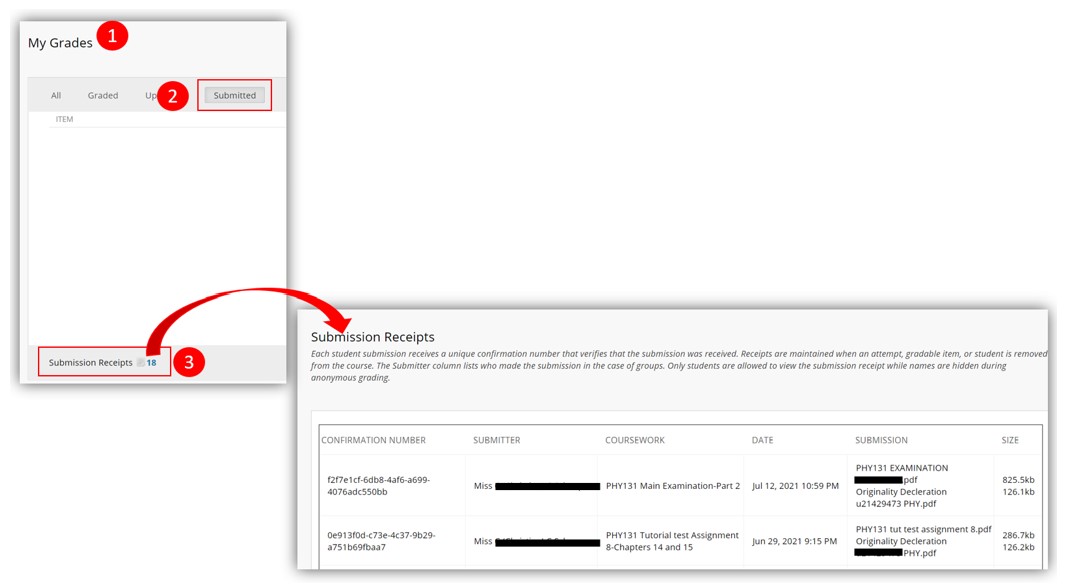 Proof of any technical difficulties during submission:
Should you experience any technical difficulties when submitting an assignment, send an email with clear screenshots/photos or a video, that you add as attachments. Make sure to keep a copy of the email you sent to your lecturer.